As the title states we're moving so I have a few items to hopefully sell before we move. Everything is OBO:
Coffee Table & 2 End Tables
Purchased from HOM furniture, in good shape. Includes 2 end tables and the coffee table. Glass and stone inserts come out for easy transportation
$120 for the whole set.
Cherry TV Stand / Entertainment Center
Large TV stand with lots of storage, has 4 shelves below, another large shelf the full size of the unit above those, and then the top for setting a TV on. I have a 46" LCD on it and there is plenty of room to go bigger, probably at least 55-60" It's in pretty good shape, but heavy.
$120
Red/White/Black race-deck style garage flooring (Garage Deck brand)
I purchased this probably 4 years ago or so from bigfloors.com - I have approximately 170 black tiles, 104 white tiles, and 64 red tiles, and each tile is 1 square foot. It was enough to cover my 2 car garage with some left over. It power washed it last summer so it's fairly clean, it's been in a garage though so there's some with scratches/scuffs/etc and some, especially the white are a little dirty still. Spent close to $1000 new, looking for
$400 for all of it.
(Picture was from when it was brand-new)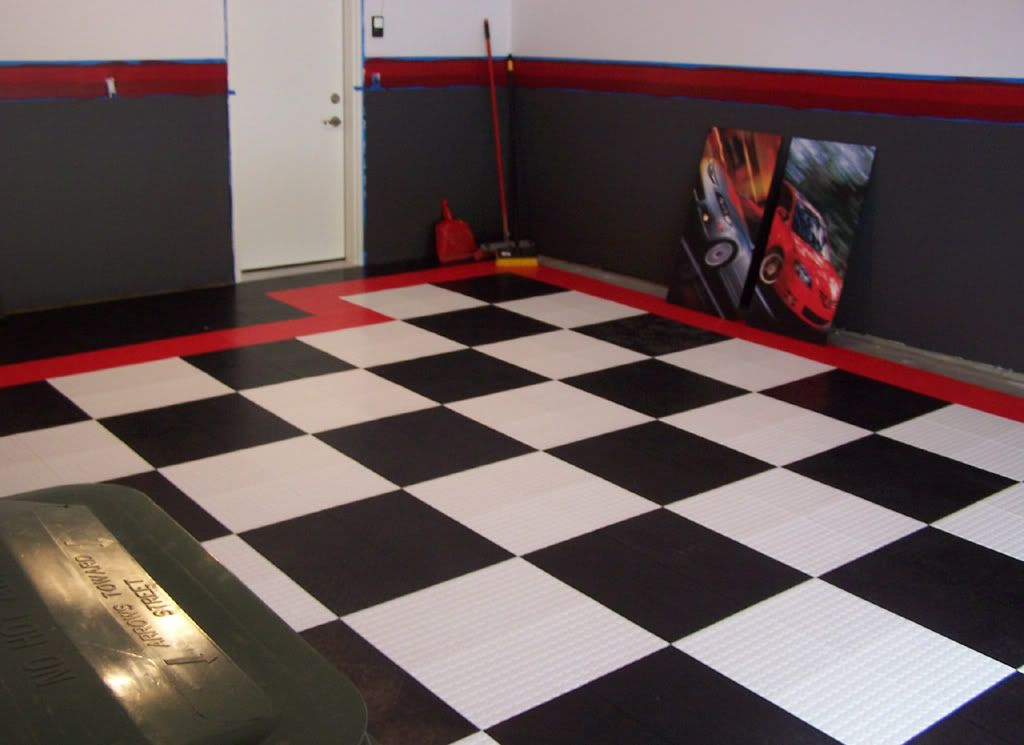 Townhome for rent:
I'm also renting my 3 bed 3 bath 1763sqft townhome out starting July 1 - nice 2 car garage, big corner lot, living/dining/kitchen/bath on the main level and 3 bedrooms, 2 bathrooms, and a large loft upstairs. Owners suite has a big sitting room / office attached to it, walk in closet, and 3/4 bath with dual vanity sink. If you're interested let me know.
$1400/mo
12+ month lease, discounts considered for 24 or 36 month lease, furniture can be negotiated.