So I like to keep my car clean. Every weekend during the summer I give my car a wash on my driveway, using my garden hose. Problem is, I don't have softened water, so after I do the final rinse, unless I quickly towel-dry the car, I end up with water spots on the paint. I was at Home Depot today and came up with a quick, cheap solution that should reduce or eliminate water spots.
Remember the
Mr. Clean AutoDry
? It's this huge spray nozzle contraption you hook onto your hose and has two settings: "spray" and "spotless wash". The "spray" mode is just the regular water coming through the hose, while the "spotless wash" is a low-pressure mist you're supposed to do your final rinse with that claims you don't have to hand-dry the car afterwards. I tried one of these, and it didn't work half-bad, but they never caught on and are somewhat expensive, when you factor in the frequent filter refills. What this how-to shows is, basically, making your own AutoDry that filters all the water coming out of your hose (not just during the final rinse) and only costs about $35.
Parts you'll need (easily found at Home Depot):
1. GE SmartWater shower filter
2. 3/4" female to 1/2" male threaded brass fitting (Watts part A-677)
3. 1/2" female to 3/4" female threaded brass fitting (Watts part A-660)
4. 3/4" male to 3/4" male threaded brass coupler (Watts part A-680)
Tools/supplies:
1. Large adjustable wrench (or channel locks)
2. Teflon plumber's tape
Here are pictures of the parts: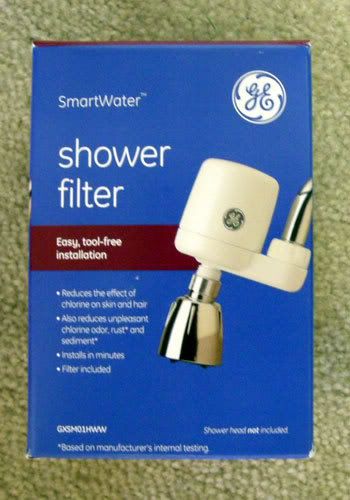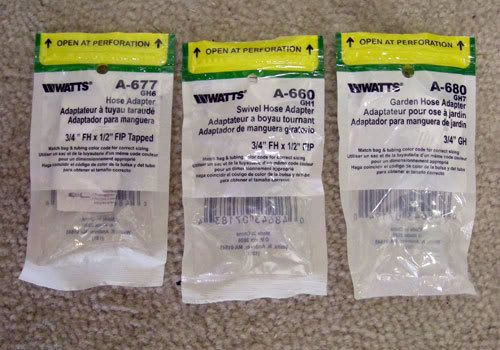 Assembly:
1. Detach your garden hose from the spigot.
2. Wrap the threaded end of the spigot with Teflon tape (two layers is good) and screw in the 3/4" female to 1/2" male fitting. Use your wrench to make sure it's tight (leaks are bad).
3. Wrap some Teflon tape around the 1/2" fitting end and screw in the water filter (there's a rubber O-ring in the filter's connector, so you don't need to thread it on there very tight).
4. Wrap some Teflon tape around one end of the 3/4" to 3/4" coupler, and screw it into the 1/2" female to 3/4" female adapter.
5. Wrap some Teflon tape around the 1/2" male outlet on the filter, and screw in the assembly from step 4.
6. Hook your garden hose up to the newly-adapted outlet on the filter.
That's it! My hose spigot is in my garage since I live in a townhome, so I had to be very careful to try to avoid leaks, but the Teflon tape helps a lot. The shower filter only has 1/2" inputs and outputs, hence the need to use adapters so it'll work with standard 3/4" garden hose fittings. The filter itself only cost $22, and the adapters were about $13. You might think that the volume and pressure of the water going through the hose would be less after adding the filter, but I haven't really noticed a difference.
GE says that the filter element should last around 6 months with regular shower use. Unless you're bored, chances are you wash your car at most once a week. I'd estimate that the filter element should last at least 2 years if you wash your car once a week, 6 months out of the year (this is Minnesota, after all). And since the filter elements only cost $10 each, that means you're only paying $5 a year to not have to hand-dry your car. That sounds like a deal to me.
Here's the final product: