To celebrate our new location...errr home in Lino Lakes we would like to invite everyone to a
No Limit Texas Hold-em Poker Tournament @ The Angry Pickle Card Club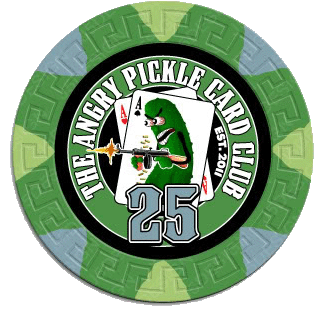 When:
Sunday July 20th 2014 @ 2:00PM
Where:
The Angry Pickle Card Club (Our house in Lino Lakes, See Below)
Why:
No Limit Texas Holdem Poker Tournament
Who:
YOU, your significant other, and friends. We'll do 8-10 per table, if we have enough we can setup a second or third table.
General Rules:
As with most all of my poker games everyone is invited; even if you haven't played before! All I ask is that you come willing to learn, and wanting to play and pay attention. If you're sitting on your phone or constantly off doing something else, you'll be asked to withdraw from the game and/or assaulted with nerf weaponry.
This will be a no limit tournament with a $10 buy-in, ReBuy's will be available for the first 20 minutes if you bust out.
Bets must be at least as much as the big blind, and raises need to double the previous bet. I want to try and stick to standard/casino rules as much as possible - but I understand this is also a friendly game and there will be inexperienced players, so if you do something that is generally not allowed or not best practices I'll just try and let you know.
Note: I will make decision on all disputes (if we have any, never really have), IF the dispute involves me another knowledgeable player will be selected at random to make a ruling.
The Blinds
I need to sort out the blind levels, we'll probably start with a couple 15-20 minute blind levels then drop it down to 10-15 minutes.
Food
We will have various snack type items - pretzels, chips, etc, available, if you wish to bring something else feel free. We often order pizza part way through the night so bring some extra cash to kick in on that if you wish. BYOB please.
PM me if you need directions.
Attending:
1) Matt
2) Kelsey
3) Josh
4) Biz
5) Dan
6) Jenny
7) Hayden
8) Molly
9) Scott Hengel
10 Jake Hengel
11) AJ
12)
13)
14)
15)
Last edited: