*CANCELED* Itasca State Park Clubhouse Trip III - September 2014 (Fri-Sun 12-14)
Itasca Clubhouse Trip III

Itasca State Park - Park Rapids MN
Two Nights - Friday September 12 to Sunday September 14th 2014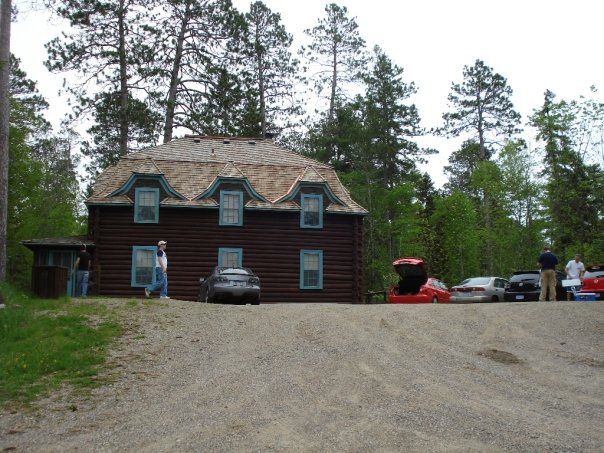 MN Mazda first visited this amazing 100+ year old log clubhouse in 2008. After a 4 year break from we recently returned from our second trip and it proved to be just as awesome as the first time. I think everyone agreed it would be nice to have two nights in this awesome Cabin/Clubhouse so I'm going to try and organize a longer stay for 2014.
For those that did not make the first trip (back in 2008) or our 2013 trip - Itasca state park has a wonderful old turn of the century (I think) log cabin/clubhouse, this thing is huge, the whole center of the place is a wide open great room, two stories tall w/ a balcony all the way around the interior. Then it is lined with 10 bedrooms and 5 bathrooms around the perimeter.
There are no cooking facilities in the cabin so coolers are a must for beverage cooling - there is campfire area where we can cook food. Technically alcohol is not allowed in state parks - however each of our trips we've had plenty to drink, as long as things are kept reasonable / under control it's no problem.
Sleeping Arrangements
Bedrooms have varying configurations of Double and Single Beds - a total of 7 doubles and 7 singles between the 10 rooms. SOME people may have to share a room depending on how many people go. Couples will have first dibs on Double beds, and
bed/bedroom selection will be offered in the order you put a deposit down.
There will be no calling dibs or anything like that. Those who pay first get to pick first. No exceptions.
Cost and Deposits
The total cost for the cabin is $500 with Tax PER NIGHT. Unfortunately Itasca requires the full amount up front on a two night stay, so I'm going to have to front $1000. Because of this I'm adjusting the deposit structure a little bit from what we had before.
The total cost will be divided evenly between the total number of people that go. So if we get 10 people it'll be $100 or so per person for 2 nights. Keep in mind this place can sleep 21+ people so the more that go the cheaper this ends up being.
Deposits will be required - I'm asking for a $30 per person non-refundable deposit to get on the list, this can be paid via cash in person, mailing me a check, or via a paypal 'friend/gift' transfer (no fee transfer). If you have to bow out and you find someone else to take your spot they can certainly pay you back your deposit, they will, however, be bumped to the bottom of the list as far as selecting bed/bedrooms.
As of right now September 12-14 is the ONLY weekend available in 2014, it opens for registration on the 14th of 2013 (just a few days away), so someone else could reserve this site out from under us. I know this is SO far in advance, but the more committed deposits we get really early the more likely we are to get this thing rolling.
I will probably book the cabin as soon as I have 8-10 people say they are willing to send the deposit, and then as soon as it's actually booked as for people to start sending deposits.
Final payment will be due sometime the week of or once we get up there - once we know how many people we have going and what the total will be per person.
Attractions:
Last time, from what I can remember we all went hiking around Lake Itasca for a while, then went up to the headwaters of the Mississippi and walked across it (it's tiny up there!) There's plenty of other things to see/do as people see fit - boat/kayak/canoe rentals, mountain bike rentals, hiking trails, etc. Last time we spent a good deal of the time just hanging around the campfire and lake (just a few hundred feet from the cabin) just hanging out, BSing, and relaxing.
Pets
Since it was asked - pets are NOT allowed in the cabins - if you wanted to camp you could bring your dog/cat/whatever but you cannot stay at the cabin with them.
Interested Parties:
Matt & Kelsey
Jay & Nanami
Corey & Tauni
Josh & Michele
Attendees:
Double Beds
1)
2)
3)
4)
5)
6)
7)
Single Beds:
1)
2)
3)
4)
5)
6)
7)
Last edited: