Hey everyone,
Since it's been a long time since I passed my CCNA exam I figured I might as well sell my lab kit. This is a set of hardware that will pretty much cover all of the hands-on portions of studying for the Cisco Certified Network Associate exam. Here's the gear it includes:
3x Cisco Catalyst 2900XL, 24-port 10/100 switches running IOS 12.0(5)WC17.
1x Cisco 2620 router, 64MB RAM, 16MB flash.
2x Cisco 2610 routers, 64MB RAM, 16MB flash.
5x WIC-1DSU cards (two installed in the 2620, two in one of the 2610s, and one in the other 2610). (These let you practice with single or aggregated WAN links.)
Cisco Aironet 1231g access point (two antennas, external power adapter, ceiling/wall mount kit). (Not a direct part of the CCNA Route/Switch test, but good practice if you want to expand into the CCNA Wireless specialization exam.)
All of the Ethernet and T1 back-to-back cables necessary to hook the equipment up, along with a Cisco serial console cable.
All three routers and switches are installed in a custom storage bin with wheels and rack ears. There's a power strip in the bottom, so you only have one cable going to the wall for power. I also made a small patch panel so you can have front access to the console ports on the switches.
Looking to get $220. A kit like this retails for much more from the places that specialize in lab kits (and they don't include the awesome custom rolling rack bin!).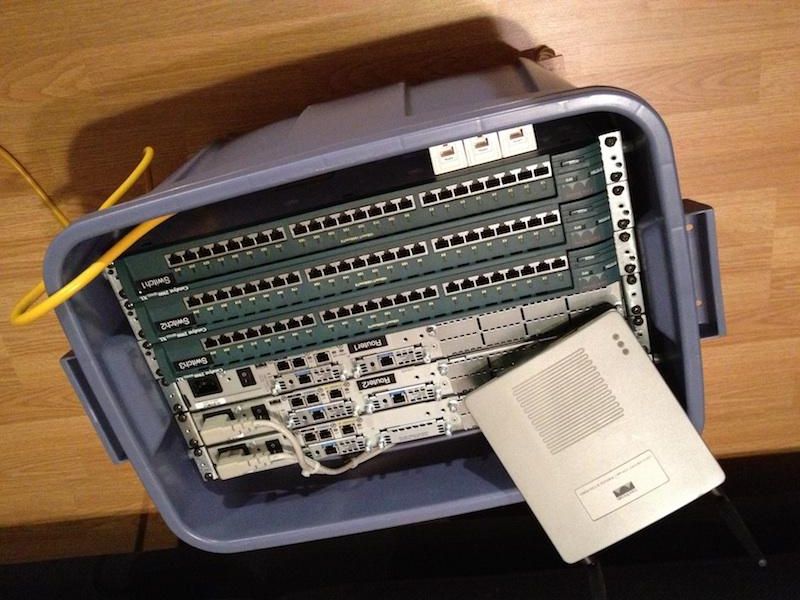 Last edited by a moderator: